Subject Liaison Service | University Faculty Pages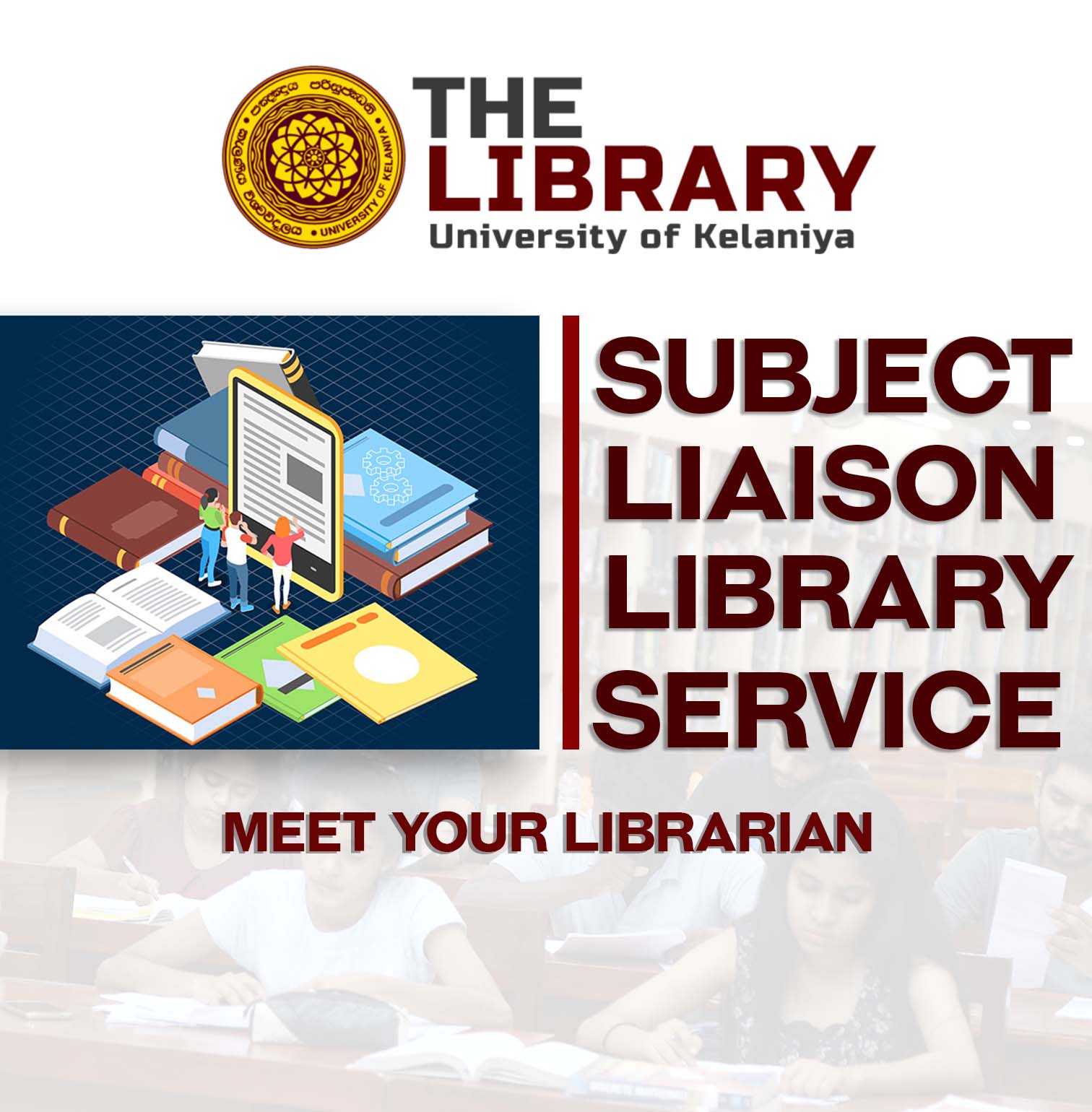 Subject Liaison Library Service
Looking for personalized guidance when it comes to doing work at the library? Curious how the library can help you in your area of study? We are here to help you. Each Faculty of the University has an academic library specialist who can help you make the most of your studies, assignments and research. This guide is intended to provide context, contacts, services offered, and best practices for the Subject Liaison Library programmes at the University of Kelaniya Libraries.
0
Student Support Service
| UOK
Subject Liaisons : FOR STUDENTS
We have a dedicated team of Academic Liaison Librarians who are your expert contacts for your subjects in your Faculty.
Your librarian will work with you and your lecturers to help you succeed in your studies. They ensure that we meet the teaching and research needs of the University. Whether you're working on assignments, research projects, or just getting to know the libraries, your liaison can work with you to:
Understand and navigate University of Kelaniya's library resources
Develop and refine a research topic
Optimize your search strategies
Connect you with relevant experts
Provide information resources
Conduct classes on Plagiarism, Referencing conventions, Dissertation preparation software, Literature surveys and reviews, Citation analysis , Information Literacy, App-based research etc.
Advice  on intellectual property, data management, indexing, citation analysis, publication avenues and copyright issues etc.
Subject Liaisons : FOR INSTRUCTORS
Liaison services are also provided by subject librarian, e.g. preparation for new courses and programmes, instructional workshops, research consultation, etc.   
conduct instruction sessions for your classes
create an online subject guide for your classes
help design effective research assignments
meet with individual students who require assistance with library research
consult on new courses you are developing
prepare library collection assessments that are required for new course/programme proposals
consult on how to incorporate information literacy into your courses/programmes
consider recommendations with regard to book purchases and journal subscriptions
Talk to your library liaison and we'll figure out a plan to connect your students with the best tools and materials.
"The only thing that you absolutely have to know, is the location of the library"
"Google can bring you back 100,000 answers, a librarian can bring you back the right one."
"Librarians save lives by handing the right book at the right time to a kid in need"
"I see libraries and librarians as frontline soldiers in the war against illiteracy and lack of imagination"
"In the nonstop tsunami of global information, librarians provide us with floaties and teach us to swim"
"Information is valuable. Librarians and libraries are, at best incidental; at worst, in the way."
"Librarians are tour-guides for all of knowledge."